Keeping a Grip on My Skinny Self Through the Holidays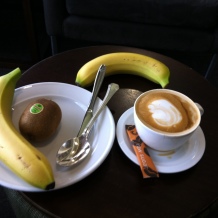 Halloween can easily be an early catalyst for the annual six week Thanksgiving to New Years "Tornado Season" of weight management, each holiday potentially cutting a swath of destruction in our healthy habits in its wake…or maybe not!
With that concern no doubt in mind, my friend Camille from the gym asked me if I could offer her a single lifesaving holiday diet tip since she was entering her very first holiday season a full seventy-five pounds lighter than she had been in the last 20 years. "I'm terrified that if I stop acting like my new 125 lb. self for the holidays, I may never get her back." A reasonable concern, in my twenty years of personal and professional experience. "Think big picture, " I told her. "Learn to recognize your personal gateway behaviors." Because it is not the five pounds that the average overweight person gains between Thanksgiving and New Years that's the main concern for someone with her history. It is the potential reawakening of that sleeping lion within represented by those pounds that poses the real threat. What if it's not so easy to simply switch off her old 200 lb. self come January 1?
But, what if you knew that with a little practice you could identify your unique gateway behaviors (actions, thoughts, people, foods) that unleash that abandoned self? What if you could interrupt that heretofore inevitable and sometimes baffling chain of derailment and find a way to loosen up without giving up? What if you could not only learn to spot the headlights of that oncoming Christmas cookie train before it runs you down, but also make preemptive strikes to support yourself in a way that your willpower may have repeatedly failed to do? How hopeful is that? Not only can this be done, but it is the single most important skill you can cultivate for sustainable weight loss.
Here is how some others have learned to keep a grip through the holidays:
The Pay As You Go Plan: Instead of just eating with abandonment every single day for six straight weeks, Caorlee learned to use all the non-party days between Thanksgiving and New Years to calorically reconcile those predictable holiday celebrations. She never again rolled into January wearing several pounds of sincere but empty promises of future payback and the demoralization they always engendered. Her intentionally well-practiced "Skinny Day" menu earned its keep here. Was the best part no weight gain or guilt free indulgence? A draw.
Keeping Pandora's Box Closed: Andrew surmounted his biggest holiday challenge by keeping closed and locked doors he used to open under the umbrella of "holiday abandonment", doors that had absolutely nothing to do with the holidays, like eating bagels in the office every morning. The Christmas goodies (that justified the violation of his no-baked-goods-for-breakfast-rule in the first place) would eventually disappear, but bagels are forever.
Keeping Up Firewalls: Holly never again got totally off the beam once she kept her personal core healthy behaviors going throughout the holidays. She begrudgingly acknowledged that hitting the gym in the morning and picking up her typical lunch of a salad with protein on the way to work was in no way interfering with any of her holiday celebrations. Those two firewalls kept her handing the reigns to her "good angel" each morning.
Do you know what your gateway behaviors are? To whom did you hand the reigns today?