Halloween – Trick Me or Treat Me?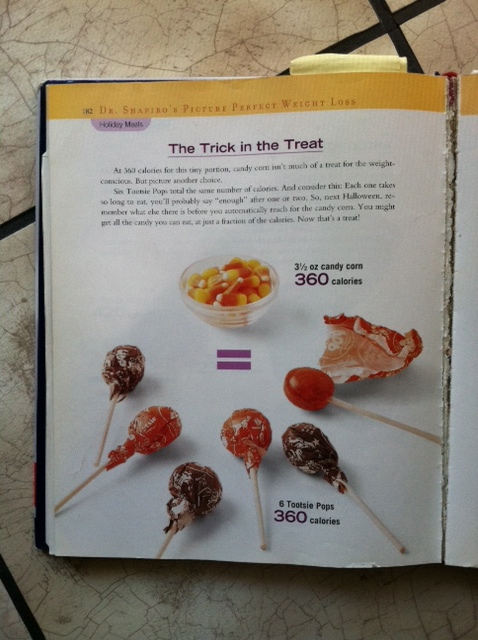 Halloween, that predictable candy blowout, lends itself to a short but sweet discussion of how fellow compatriots of the weight management wars have been able to successfully navigate this holiday and treat it like what it is…just a day.
Let's first dispose of that unnecessarily miserly and Spartan attitude about weight management that I must learn to deny myself all pleasure to succeed at sustaining my target weight.  Not only not true, but an empty threat that only serves to make me want to abandon the idea of this grim and impossible purgatory and start on miniature KitKats this very minute.
Here's what has to get done no matter what: maintaining accountability for the budget for my target weight, learning to take action before I don't care, and making sure my chosen treat doesn't open any doors I can't later close.  I've got to but also get to make these determinations.  Here is what doesn't work: feigning ignorance (tricking myself) about my default plan – that is the plan that really happens if I don't make a plan.  At 58, I my Achille's heels are nothing if not predictable.
The Budget:  Treats (not cheats) allow for maintenance of the goal.  Treats mean I am planning to fit whatever I eat into my budget – be it a single candy bar or a pound bag of M&Ms. I can't start over, zeroing out the register, any more than I can with credit card debt.  But I can make room for anything that I deem worth it.
Catching myself while I still care:  Like the children's game of Hot and Cold where, as the contestant gets closer to the chosen object, the crowd of kids yells "hotter" and when they head away the kids yell "colder", so my desire to go for the pleasure and ignore the price, be it budgetary or emotional, increases the closer I get to the Snickers.
Waking the sleeping dragon:  My history clearly and sometimes painfully demonstrates doors that would have better remained closed.  I bet yours does too.  For example, I find myself picking individual ice cream treats (sans cookies or cones) these days rather than the heavy crumb cakes or cheese danishes that have cost me whole seasons of weight management.
Since I would like to manage this now, not years of therapy from now (hoping to turn me into someone to whom this comes more naturally, someone who can eat intuitively, someone who doesn't have to deliberately work at it), there are lots of things I can do right now to effectively keep the sleeping dragon asleep.
A Few Ideas – Mine and Others:
Eat enough real food.  It is amazing how much the day is affected by what I choose for my breakfast and lunch.  Protein and produce set the stage for a level of self control that I have never managed when saving up my calories to eat just junk.
Exercise early in the day.  This is the single most effective way for me to get a hold of the self that cares, bar none.  Always true, but especially useful for holidays when the environment is predictably difficult if not downright out of control.
Go out for a treat meal – after trick or treating is over, bribe myself into waiting for something that is easier to contain.  A great burger has regularly bribed me out of much worse damage.
Buy something to give out that I truly don't like.  I have never had nor had any desire to have a Blow Pop.  Works like a charm.  I can tell when I have hit on the right choice by the disappointment I feel about buying it.  I also have no difficulty either parting with all the remaining pops by leaving them outside at the end of the evening or leaving them in my closet for next year.  I forget I even own them.  No way in the world would either of those things happen with any chocolate choice. One year I bought Circus Peanuts (those spongy banana flavored things) – but turns out no one else wanted them either!
Melissa gave out tattoos last year.  They were a big hit actually and, better yet, not edible.
Rhonda hosted a Halloween party complete with all kinds of creepy things she made out of edible parts – like eyeballs made of peeled grapes and intestines made of gummy worms.  All the kids loved it and it was over when it was over.  All edible body parts left with the kids.
Celeste had each of her kids pick out fourteen candy choices from their stash, and her husband supportively took responsibility for dumping the rest – far from home.   She sequestered all the chosen candy in the garage where no one would inadvertently come across it – especially her – and gave them out one at a time after dinner for the next two weeks.  What was really eye opening was that all three small children picked out the straight sugar stuff, not the chocolates.  She had been convinced that she just had to give out chocolate before that experience.  Turns out little kids want things like Sour Patch Kids that are much less appealing to her.  Good to know.
Be selective.  Much as Sandy likes candy corn, it truly isn't worth it to her.  However, while she would never openly commit herself to buying a bag, she absolutely saw herself daily grabbing a handful of someone else's walking by their desk (acting like it didn't count because it was in such little pieces, it was special for the holiday, and after all, she didn't buy it).  And, to boot, she never even remembered that she had had it.  A small, seemingly inconsequential action like that for the thirty days leading up to the holiday accumulated to three "mystery" pounds gained last October.  She now makes it a point to remind herself that the candy sold at Halloween is the exact same candy sold twenty four hours a day, seven days a week, three hundred and sixty five days a year everywhere in America – it is just made special by its orange and black wrappers.
Pick out my absolute favorite candy choice and buy one for myself (whatever size I want and am willing/am able to make room for in my budget) and have it after all the rest of the candy is gone.  One Hershey bar with almonds (even the King size) is more manageable than 50 minis.  I can contain the chocolate to one thoroughly pleasurable, guiltless incident – not a month of teases, or worse, binge catalysts.
Buy the candy the day of.  I am sure I am not the only person who bought the candy way ahead of time and then had to buy it again because I ate it all.  If I really don't care what I give out because I am really not planning on eating it, what difference does it make if I wait till the very last minute?  Likely all the least desirable stuff is left anyway – like those Circus Peanuts!
As much as I might think that no one else on the planet earth has to go to these lengths, that these actions to control my stimulus exposure all draw attention to my embarrassing limitations, it does occur to me that weight or evidence of my gluttony speak for themselves – empty wrappers, suspiciously missing bunny ears, moving the remaining candy into a smaller and smaller containers to cover the diminishing volume – all these draw attention to that fact all by themselves.  Ya know that World's Biggest Ball of Twine tourist attraction?  I have one of those of compressed Hershey Kiss wrappers.
What actions can I take to help myself this year?  Can I get off the judgment and disappointment in myself bandwagon and accept that successful weight management can be just a few short action steps away if I want it to be?  Just because I wasn't born Mozart doesn't mean that I can't practice my way into learning to play the piano.  My choice again.